I must admit this weekend was rather dismal when it came to hermitting and stitching...although some did get done, which is still an improvement than the last few weeks.
I think my major problem was I couldn't decide on what to work so I ended up starting THREE new projects - like I need more!
First up was both my SALS. Sweet treats was fine, and I can see this coming along quickly once I get back in to my stitching mind.
Dressmakers Daughter proved more of a challenge. This is my first project I have ever done on Linen so I am plodding along slowly. Fingers crossed once I get the hang of it I'll be fine. The first section is supposed to be done by the end of the month - not very likely!
Finally I worked on something different. A group of stitchers on Facebook seem to also be having trouble locating their stitching bug so have decided to do a HAL (Hook a long) in the form of some latch hook rugs (insert smutty joke about been hookers here).
I have never done this before but I must say so far I am enjoying it, its really easy and good for those days when your head just can't get in to stitching.
But in the grand scheme of things I still have a long way to go...
Remember!
Less than a week now until my giveaway, so get your entries in fast! Click below to jump straight to the post.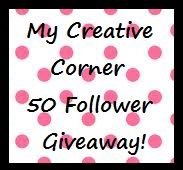 Thank you to my followers old and new alike for your kind comments.
Now to read how much better everyone else has done at the IHSW!
Emma xo